Here are a few of the most recent Websites we've done.  Any new Website we recommend is a "responsive" mobile friendly one.  Your Website must adapt to the small screens of ever-increasing numbers of smartphone Website visitors.
The following three are mobile-friendly responsive WordPress theme customizations. Each uses a different theme, but based on the WordPress platform.
Here are three examples of the adaptability of WordPress themes.  The following three are customizations of the same, mobile-friendly theme, called "Mantra." All the technology is there to create a different look and feel.  These sites have varying functionality such as slide shows, email newsletters, galleries, forums and password-protected members only sections.  And all those extras are free.  This theme is only one example of the many free ones available for your selection.
Here is an older WordPress site.  It hasn't been updated to mobile friendly.  It's a highly customizable online shopping cart for a marine consignment store.
orientalmarineconsignment.com
And here is an old technology, flat non-mobile friendly Website. It is a custom site, created from scratch.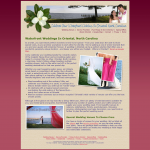 weddingsinoriental.com